In Memory
Tracy Peters (Burke-Cremer)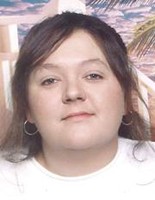 DAVENPORT, Iowa – Tracy M. Burke-Cremer, 36, Davenport, formerly of Muscatine, passed away on Monday, Dec. 21, 2009, at her home.

Casketbearers will be Scott Butler, Steven Rhodes, Jr., Mickael Ford, Jr., Matthew Ford, Harley Butler and Jason Young.

A memorial fund has been established at the funeral home in her name.
Tracy Michelle Brady was born on Jan. 11, 1973, in Muscatine, the daughter of Donald and Linda (Peters) Brady.

She was a graduate of Muscatine High School. She was married to Robert Burke III and later divorced. On Dec. 16, 2009, she was united in marriage to Shawn Cremer.

She was a homemaker who enjoyed listening to music.

She is survived by her husband, Shawn Cremer, of Davenport; three children, Zachary Burke, Ashley Burke and Nicole Burke, all of Muscatine; and her father, Donald Brady of Fairport.

She was preceded in death by her mother.