In Memory
David Hargrave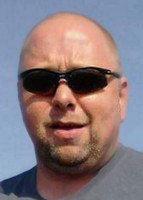 David E. Hargrave, 42, of Muscatine, passed away suddenly on Tuesday, January 5, 2016, at Genesis Hospital - East Campus, Davenport.

David was born on April 11, 1973, in Muscatine, the son of Robert and Sharon Giessregen Hargrave. He married Jennifer Archer on July 18, 1998, in Muscatine.

He was a member of the Muscatine Bowling Association, USBC, was a softball coach for the city softball league for the last six years. He enjoyed hunting, fishing, and loved spending time with family, especially his kids.

Those left to honor his memory include his wife, Jennifer Hargrave of Muscatine; a daughter, Vada Hargrave of Muscatine; a step-son, Logan Hagens of Muscatine; his mother, Sharon Hargrave of Muscatine; two sisters, Cathy Hill and friend, Scott, of Muscatine, Jane Yerington and husband, John, of Muscatine; nieces and nephews, Nathan Hill of Muscatine, Ara Archer-Mira of Chicago, Illinois, Brittany Hillman of Alabama, and Sydney Hill of Muscatine; numerous aunts, uncles, and cousins; his mother-in-law, Kathy Archer-Raymond and husband, Chuck, of Muscatine; and a brother-in-law, Jason Archer and wife, Estela, of Chicago, Illinois.

He was preceded in death by his grandparents; his father; an aunt and uncle; and his father-in-law.